Welcome to TopoFusion.com

Latest TopoFusion Headlines
May 3, 2019
-
v5.55 - new high res elevation data
November 16, 2018
-
V5.54 released - US Land Ownership Blend
August 6, 2018
-
New release - v5.51 - Elevation data fixed
August 11, 2017
-
New version 5.46 - SSL and simplification
TopoFusion is GPS Mapping software for Windows. It downloads maps (Topo, Aerial Photo and Satellite) automatically from several public map servers (see:
available imagery
).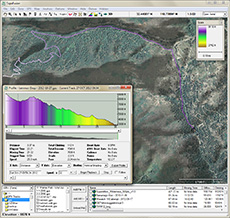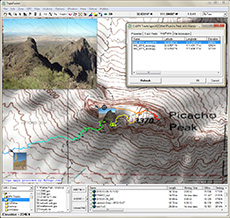 Please
download
and use the free version. It is fully functional except that 1/5th of the map tiles are obscured with the word DEMO and there is a limit of three files open at a time. It is not time limited, so you are free to keep and use it as long as you like. If you like what we are trying to accomplish with our software and would like to support our efforts, please
purchase a copy
to remove the DEMO tiles.
Our aim is to continually nudge the state of the art in mapping software forward. A few examples:
Efficient, versatile map display engine. TopoFusion runs the way a modern mapping application should--fast and smooth.
Fusion Combo Maps: Blend topo, aerial, TIGER road and color aerial maps together to form amazing new maps.
Power Analysis: Exclusive features to sync PowerTap wattage data with GPS tracks. Fully supports the new Edge 705 including mapping and profiling power.
PhotoFusion: Geo-reference digital photos using EXIF timestamps. Places photos along GPS tracks and produces HTML pages with clickable image maps.
Multi-track playback: Visualize multiple trips recorded by GPS simultaneously.
Networks: Combine multiple GPS tracklogs into a GPS network using our exclusive algorithm. No other software can merge and simplify large collections of data.
Splining/Simplifying GPS data: Interpolate GPS data or decrease the number of points in a track log.
User Maps: 3-point calibration of any imported image, with transparency.