Today was almost entirely either sand, or singletrack.  That wasn't the way we thought it was going to go, but it was an interesting day.  Making it up as you go has a way of keeping things interesting.
We started out on smooth singletrack along Clear Creek, heading to breakfast.  Then more good trail to the proper end of McKenzie River Trail.  We spied the 3000 year old stumps still visible at the bottom of the lake, this time around.
At the end of McKenzie is the Old Santiam Wagon road, which starts out as more of a nice singletrack than anything.  We heard the rumors that this was to be a sandy climb, full of hike-a-bike.  But there's no alternative other than the very busy highway.
Well, we rode 90% of the first few miles, gaining elevation nicely.  I thought we were done — on to roads and 2 tracks open to vehicles.
Oh, how foolish.  The real sand and hiking was just to begin.  The next couple miles were nearly completely unrideable, uphill.  Not even our usual joke of 'should have brought the fat bike' worked — you'd be walking even with Bud/Lou tires.
The road up to Sand Mountain (hmmm) was reached, but though things did improve on this open-to-vehicles road, it was still too sandy to ride in many places. 
We ditched packs, loaded up shoes and pedaled up the Lookout's road.  After most of the climbing, a little trail led the rest of the way.  Running shoes!
The lookout held our first good view of the country we've been traveling through and living in, for the past couple weeks.  The sisters!  There are the sisters! Finally we can see them after being skunked on views from Newburry, Fuji Mtn, Olallie, etc.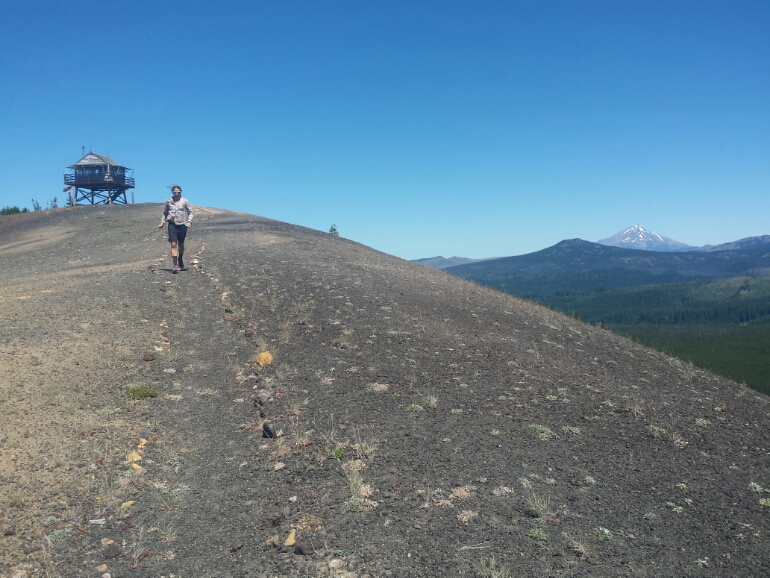 This lookout actually had a lookout, meaning a person that lived up there.  Brian kindly let us into his 'home' and answered some questions.  He said only 2-3 people visit him per week, and that he sometimes stays 18 days at a time up there.
A semi-trail took us around the crater at the top of the mountain, then back around to the bikes.  Now, how much more sand could there be?
A lot.  We walked uphill, we walked flat, we maybe even walked a little downhill.  The sun cooked us a little.  Big Lake couldn't come soon enough — a dip was well in order.
We waited out the hottest part of the day at the lake, drinking water, cooling down and checking in on the plentiful phone service.  We're on the desert side of the Cascades now, where the tree cover is much weaker, the dirt sandy, and the cell coverage steady.
Back on the bikes, same question – how much longer could the sand really go on?  It continued for quite a while through some very interesting high desert terrain.  It was pretty rideable, and often downhill, but a 29+ type of bike would be ideal.
We followed a track sent to us by Gary Meyer as it turned off the Santiam Wagon Road, we figured with good reason.  We were looking at a steep sandy hill when it turned.
As we followed this line it drew our eyes further and further to the north, off our intended path.  This was a very good thing, because consulting the map that Eszter has been carrying, we spied mucho singletrack ahead.
And of course we had to explore it.
Loose but fun ski-like trail took us down to Dark Lake, then Scout Lake, and finally Suttle Lake.  A couple miles of super mellow and fun singletrack rolled us around the latter lake, and to a 'resort' of sorts.  They only had candy bars for resupply, but also very tasty 'to go' type of wraps and salads.  Wish we had known about this place!
Or, about the 4 miles of great trail that ensued from the lake, towards Camp Sherman, where…. there's more food!  We had a moment of indecision and almost guilt, at waiting for breakfast again, knowing we carried a bunch of extra food to climb Black Butte, and roll into Sisters.  We almost skipped Camp Sherman, but good sense prevailed when we saw this idyllic campsite.  It was past 7pm and it would have been sinful to ride past such a primo spot in the ponderosa pines, complete with bubbling creek in the background.