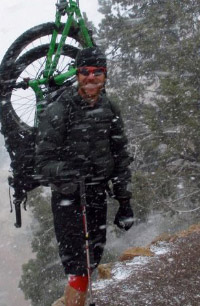 I've been a pretty obsessive mountain biker since the age of 14. Riding in the mountains is just something I do, and plan to keep doing as long as I'm able.
The rides have been getting longer and more challenging as the years go by. I got into endurance racing for a while, then moved on to bikepack racing once that lightbulb in my head went off. While touring the Great Divide in 2004 I ran into the first divide racers. The next year I joined the race. Then I started my own unofficial event on the AZT — the first singletrack bikepacking event. That event has been going on for about 10 years now. I raced the entire Colorado Trail, explored the Grand Enchantment Trail, created new purpose built bikepacking loops, and have been involved in the development of many other new ones through trackleaders.com and bikepacking.net. I love seeing the lightbulb go off in other people's heads when they get the bikepacking (or mountain biking!) bug.
Most recently I've been exploring new routes more than racing. In the summer of 2014 I thru-rode the Continental Divide Trail (the singletrack route) with my girlfriend Eszter Horanyi. That trip took four months and was the first bikepacking trip on the trail.
When not riding:
I'm the principal author of the GPS Mapping Software, TopoFusion, a company I've purposefully kept small and sustainable. Simply put, I love my company and my software.
In May 2010, I finished my PhD in Computer Science at the University of Arizona. It was a great experience that I learned a lot from, but I don't plan to teach or go professionally into research. Not yet, anyway.
Much of my time goes into trackleaders.com, which provides web based SPOT tracking services.
I also run a website about bike camping / adventuring called bikepacking.net. Sometimes I contribute articles to magazines like Tail Winds. Sometimes I head out for a day of trail layout, mapping or building. No day is ever quite the same, and I like it that way.
Home base: Tucson, AZ – at least in the winters. Planet earth during the summers.
Thanks for reading.
picture from the Grand Canyon hike/bike during 7 day traversal of the Arizona trail
Contact
You can reach me at smorris@topofusion.com