SPOT Replays in TopoFusion (v4.2+)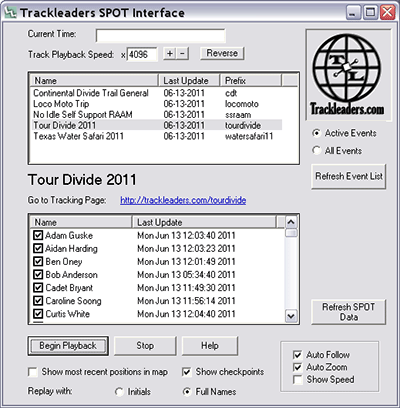 New in version 4.2 of TopoFusion Pro is an interface to all events tracked by
trackleaders.com
. Trackleaders provides
SPOT
satellite based event and trip tracking. Some races covered include Tour Divide, Yukon Quest and the Colorado Trail Race.
Find the "SPOT Replays" dialog in the Analysis menu of the main TopoFusion application. From there you can choose from a list of active and historical events. For active events you can look at current positions with timestamp data, as well as do "
instant replays
" of the event from the beginning.
Full position/time data is also available for past events, allowing full replay capabilities and analysis. Other capabilities include displaying names or initials for replays, auto zoom/follow, ability to turn racers on/off and show/hide checkpoints.
Example TopoFusion replay:
Download the free/demo version of TF to try it out:
Download TopoFusion
.
Any comments, ideas, questions? Please email Scott at smorris@topofusion.com.