Done. A little more than three weeks, which is pretty much what we guesstimated. It all came together supremely well.
We got up lazily from camp at Devil's Lake. I love camping in the same spot for multiple nights. A few miles climbing on the pavement back to the Metolius Windigo trail took us through the middle of the Cascades Relay Run. We got to cheer on some fast and some struggling runners, and also got some cheers ourselves. Good energy for human powered movement today.
Our human powered effort continued on road 370. Neither of us were in the mood to climb what we'd descended two days ago — a somewhat tough and horsey section of the MW trail.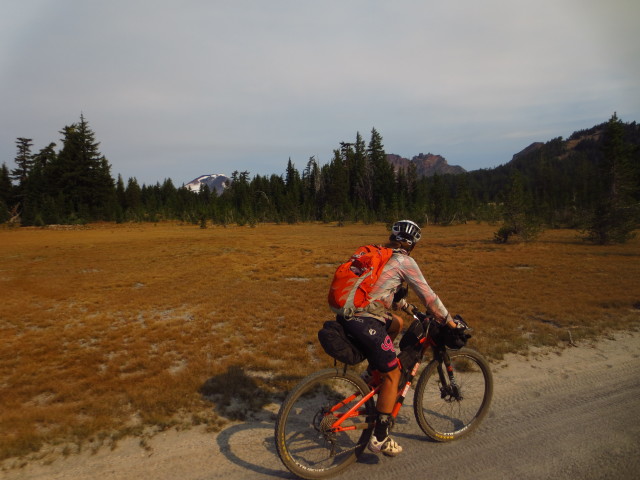 The road actually had better views of South Sister and such. "We went up there!" At the Broken Top trailhead, we dropped down to the trail, knowing we were back in MTB controlled territory. We knew the trail was good.
Our bikes were lighter than they'd been the entire trip. Minimal food, minimal water. I dropped the saddle and got into a good shred mode. Fun, fun trail. Catching air, leaning hard into turns. Yes! Mountain biking. I was super excited about the MTB finale to the loop — the Mrazek Trail.
I didn't really know much about it, other than that we'd lose nearly 4000 feet on trail today, mostly on Mrazek. I figured it would be swoopy, fun, and fast. But I have also ridden enough 'signature' shuttle rides to know not to underestimate them. I figured there'd be some punishment, some steep climbing and some occasional chunk.
But none of that ever really came. I am not sure I could reasonably imagine a more effortless way to travel 14 miles on singletrack, while losing such elevation.
Two words sum it up:
Coasting, and smiling.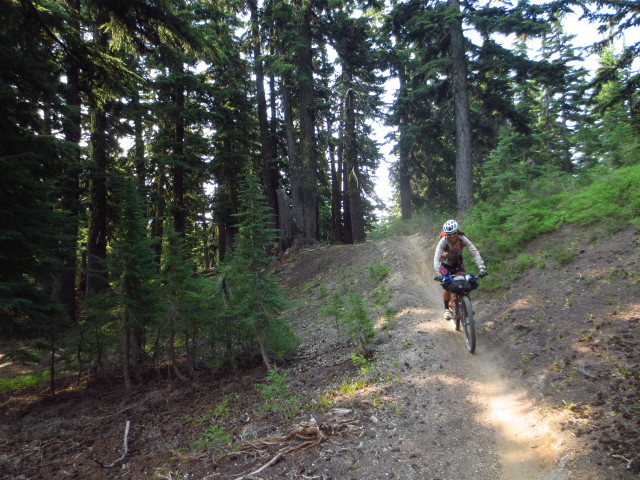 There was lots of coasting and smiling. The latter came from the satisfaction of a wonderful trip, shared with such a perfect adventuring partner. Smiling about the good luck. About the fortunate weather and grand circumstances at large. Happy about the thought of others getting to experience the beauty and fun riding this route and area has to offer.
We made it to the post office with a little bit of time to pick up our bounce box with laptops in them. Then we met with Gary Meyer and Bindy for lunch and to rehash the route. With bounce box and a gallon of anti-freeze on board, we were now more heavily loaded than ever before, but we made the 100 degree pedal over to Steve Westberg's house to fetch the van. Luckily his wife was home to kindly offer us some air conditioning and a much-needed shower.
We had to keep giving the van a few drinks of coolant as we drove it around in the hot weather. For a bit we were regretting leaving travel by bike for travel by van. But it eventually started cooling itself acceptably, and we drove out to the woods for a quick car camp.
Photos and a sum up post, to come, followed later by much more route beta, GPX, etc, with the aim of enabling others to get out there!
Thanks to Steve for the parking spot, Gary and Jolene for the route beta during the ride, GOATS/Sisters Trails/Bend Trails groups for all the trail work and clearing. And most of all, thanks to Ez for being the best riding (and hiking, soaking) partner ever.