Eszter and I spent a few days scouting an alternate route for an exciting new bikepacking route that just came to life this month. It's a five or six hundred mile backcountry loop highlighting singletrack, hot springs and mountain climbs (on foot) all through the central Cascades in Oregon.
Despite the fact that bikepacking and backpacking have nearly the same goals and impact, we had to avoid one well known trail that traverses the area: the Pacific Crest Trail. We also had to avoid Wilderness areas, but even when the PCT is outside Wilderness it is summarily closed to bikes, and I really don't know why.
As we scouted our alternate for the Hot Sisters route, trying to piece together backcountry trails with as remote and primitive an experience as we could, we found ourselves including 13 or 14 miles of Pacific Crest Trail, unknowingly.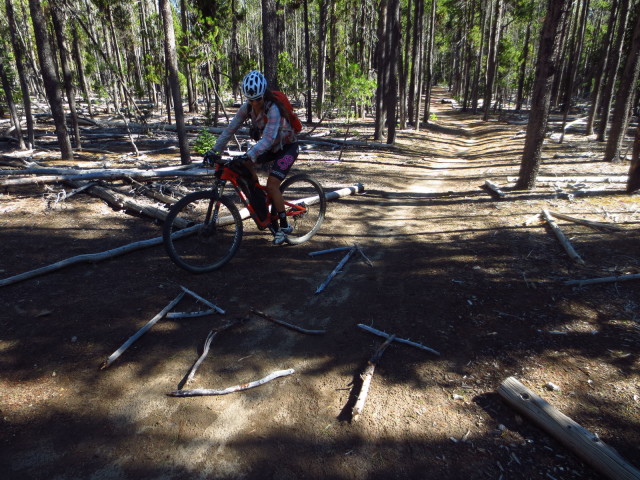 Come again? Ok, it wasn't PCT proper — every bikepack we put together goes to painstaking lengths to be 100% legal. It was on 'de facto' PCT, in that 99% of thru-hikers are going this way.
It struck us as interesting that all of the hikers would willingly abandon the PCT, where they can be assured they will not run into anyone on a bicycle, to take an alternate route where they can, and did run into mountain bikers.
Of course, it was no surprise to us that all of our interactions with the thru-hikers were overwhelming positive. We spent four months journeying alongside thru-hikers on the CDT last summer. We were instantly welcomed into the trail's community and made many good friends. Not a single negative reaction from any trail user.
For the days we spent scouting and camping along the "PCT", we met three or four dozen hikers (the trail is crowded this year, and we are right in the middle of the main pack). Without even trying, we found ourselves in the middle of the trail community. We met one guy sitting on the deck of a lodge, smiling in the sun. Later we welcomed his good friend and hiking partner into our camp and gave him soda and brownies. The next day we met a trail angel at Windigo Pass who was good friends with both of them. We shared stories of the trail, who we had met and adventures past. It made me miss the CDT thru-hiker community, for sure.
We got some funny comments from hikers that we only talked briefly to, like "Oh, bikes! How exotic!" and "Oh, right I'm not on the PCT now so there can be bikes. Cool!" Or, "I wish I had a bike right now!"
Others were curious about bikepacking and how we had managed to traverse the CDT with them last summer.
All of this just makes me continue to scratch my head about the bike ban. The people actually using long distance trails don't mind mountain bikers, so who is it exactly that is so against them? Is it the bureaucrats sitting in offices, disconnected from the reality on the trail? Perhaps so.
I think it's well past time, as bikepacking gains in popularity and acceptance, for the bike ban on the PCT to be re-evaluated.
Do I think the whole PCT should be open to bikes? No. There are places they don't make sense — like Wilderness areas and (maybe) super high use areas. But it seems that many, many sections could, and should be opened.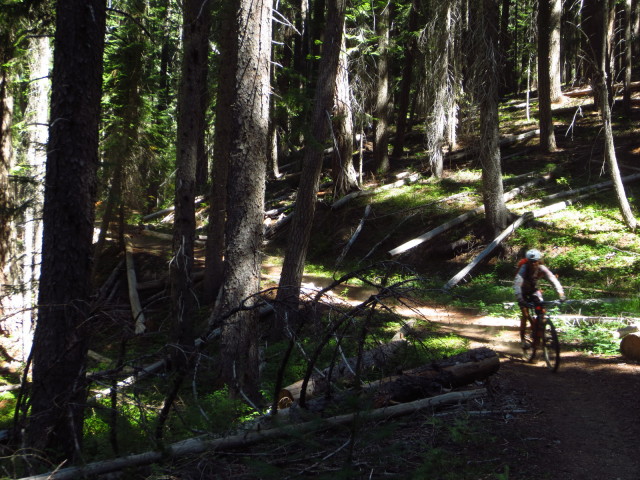 Besides the fun of meeting hikers and giving them directions for the water, trail and the free campground they were all looking for (that doesn't exist), our scouting was highly successful for the route. Going by Odell and Crescent Lake adds a bunch of good trail and a much more direct line than the Fuji/Bunchgrass/McCredie/Moon Point route we rode. The upside is that it saves many thousand feet of climbing while opening up the loop some, and only missing one hot spring. It also adds 3 or 4 options to resupply and get burgers, to what was otherwise a very long stretch with no resupply. I think it'll be the main recommended loop, while the Bunchgrass/McCredie is an alternate for the more adventurous.
Up next we're going to ride some version of the route that inspired this route — the Idaho Hot Springs Route by mastermind Casey Greene. We owe a great debt of gratitude to him for creating that loop and planting the idea of such a thing in our heads. He also inspired the many hikes to forest lookouts that we incorporated into the route.