Color Aerial coverage in TopoFusion Pro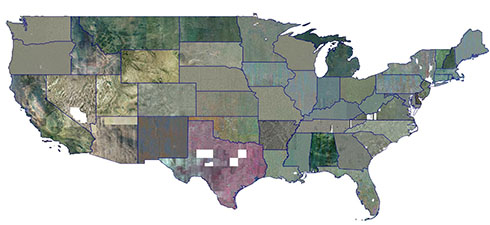 click to enlarge
To access color aerials hit the "C" key, or choose one of the "Color" tilesets in the tileset dropdown in the upper right corner of the TopoFusion main window. If you are outside the coverage area, you will get a "white noise" tile with a message about no map available.
[2/10/09]
- Alaska, Washington, Georgia and West Virginia added in Pro version 3.70+.
[8/18/09]
- Maine added in 3.84+.
[2/1/10]
- Florida added. Kansas and South Dakota currently unavailable, sorry.
[3/18/10]
- Added KS, SD, IL, AR, MI and MO. Coverage is nearly complete for the lower 48 + Alaska.
See also: List of Urban areas covered by TopoFusion in the Urban tileset.
Available States

(in alphabetical order)

AK
AL
AR
AZ
CA
CO
CT
GA
IA
ID
IL
IN
KY
KS
LA
MA
ME
MI
MO
MN
MT
NC
ND
NE
NH
NM
NV
NY
OH
OK
OR
PA
RI
SC
SD
TN
TX
UT
VA
WA
WI
WV
WY