Welcome!!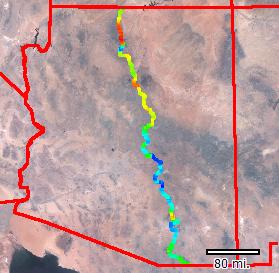 Cycling the Arizona Trail
The
Arizona Trail
travels from Mexico to Utah through the low sonoran desert to the cool pines on the north rim of the Grand Canyon (see
map
). It is nearing completion thanks to tremendous volunteer effort across the state.
This site chronicles Lee Blackwell and Scott Morris's 2005 thru-trip on the trail, which had the goal of helping to further determine a mountain bike route for the Arizona Trail. The trail enters nine wilderness areas and one national park, so off-road routes are needed for thru-cyclists.
Scott Morris and Lee Blackwell
left April 19th, 2005 to explore newly built and forgotten segments of the AZT. The intent of the trip was to ride as much of official Arizona trail as possible. Click
here
for more on what this means.
Arizona Trail GPS network available
Head on over to
bikepacking.net's AZT page
for a current source of AZT GPS data. It covers many of the options available to the Arizona Trail cyclist.
2005 Trip statistics

814.85 mi (327.74 mi uphill, 344.91 mi downhill, 135.37 mi flat)
114573 ft total ascent (116432 ft descent)
7.8% average uphill grade, 8.4% average downhill grade
25 days, 19:02:32 total time
5.4 mph average speed, 39.0 mph max speed
606.876 TopoFusion difficulty index, 1720.293 effort

Trip Updates
Since the trip is over, see the
journal
page for an index to all the updates. Unfortunately the comments made by those following the trip were lost when the blogging software was updated.
Racing the AZT in 7 days
Later in 2005, Scott rode Andrea Lankford's AZT bike route in 7 days, 8 hours. The full writeup with photos can be found on
Scott's Diary.
Scouting trip reports - old diary links removed
Freeman to Superior (and back)
Gunsight Gap Aerial Recon
Gunsight Gap ground Recon / Ripsey Wash
Flooded out of a Pinto Creek attempt
North of Oracle - Antelope Peak
Scouting and Trail design in the Rincon Valley / Colossal Cave
Rincon Valley 1
Rincon Valley 2
Rincon Valley 3
Rincon Valley 4
Colossal Cave 1
Colossal Cave 2
Colossal Cave Construction / thru-route scouting