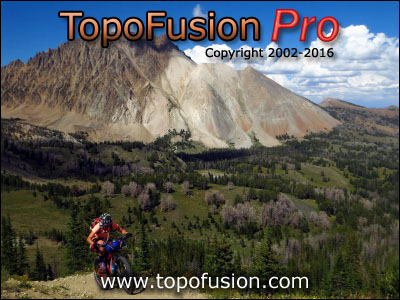 2016 Pro splash screen – Alexis Ault, bikepacking near Castle Peak, Idaho. Sadly now closed to bikes due to Wilderness designation
We've put the final touches on version 5.20 of the software. We had a nice suggestion from a user that works in trail design — how about a way to quickly measure grade (steepness) while drawing out a track? Brilliant idea — why didn't we come up with it earlier?
TopoFusion author Scott Morris just spent a couple weeks doing a trail design / survey on a re-route of the Arizona National Scenic Trail, outside of the town of Kelvin. Measuring grade and not exceeding tolerances (like 10%!) is key to designing and building sustainable trail.
Even after many years of use, the software still continues to get a little bit better with age. Thanks to everyone that has used the software over the years, and especially those that have offered their feedback.
In this release we've also brought back the Juicy Trails tileset, fixed some simplifying/splining issues and added a clarification for the MSRtopo maps (old style Topo 4M, etc). We still believe that server will continue to be up, but it's proving quite unreliable these days. So it is really better to move toward using MyTopo instead.
Update your TF and check out the new version (full list of changes below), or if you are new to TopoFusion, go ahead and try the demo. And as always, let us know what you think, especially if you have a suggestion for a new feature or different way the software should work.
Thanks!
Team TopoFusion
---
Head over to the Download Page to try TopoFusion out, free of charge.
Registered users refer to your registration email for the download link, or go here to request your code and the download URL.
Full list of changes
For a complete list of changes see the Revision History, or keep reading here for what has changed since the last public release:
5.20 – [2/08/16]
Added instantaneous Grade display to track drawing
New 2016 Splash Screens
Fixed potential crashes with splining and simplifying, especially multiple times
In a session
Fixed access to Juicy Trails tileset
Clarified text on spline dialog
Added text to Download Disabled dialog when using MSRmaps tiles (server
Continues to work intermittently)