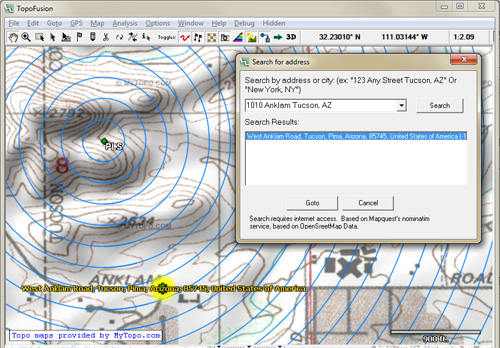 TopoFusion displaying Person Last Seen distance rings, and new address search feature
TopoFusion v4.76 is out and ready for download! This version adds a handy tool for navigating to new places — a much improved address or city search feature. CTRL-F brings up the search window, or find it in the "Goto" menu. It's tied to Mapquest's nominatim service, which is built from Open Streetmap data. So that means your copy of TopoFusion needs to be connected to the internet to search addresses, but that isn't much a problem since it needs to be in order to download new maps as well.
Address search was a feature requested of us by the Search and Rescue community. And we've added a PLS (Point Last Seen) feature for them as well. Mark a waypoint as a PLS symbol type and you can get user configurable distance search rings around that point.
We've also significantly improved the handling of bad and slow server responses. Red cross marked appear on the download tiles now, showing when downloads are being sluggish. With so many awesome servers that TopoFusion pulls from, they can't all be up all the time. So these tiles, and better handling of them, can clue you to use a different server for the time being. Luckily there are 3 or 4 sources of Topo maps and 3 sources of Color Aerial data, so there's always other choices. Not to mention other cool maps like Open Street, Open Cycle, Landsat, colored Elevation and BLM Land ownership.
Update your TF and check it out (full list of changes below), or if you are new to TopoFusion, please try the demo. And as always, let us know what you think, especially if you have a suggestion for a new feature or different way the software should work.
Thanks
Team TopoFusion
---
Head over to the Download Page to try TopoFusion out, free of charge.
Registered users refer to your registration email for the download link, or go here to request your code and the download URL.
Full list of changes
For a complete list of changes see the Revision History, or keep reading here:
4.76 – [4/30/13]
Added address searching feature (Goto->Search Address)using MapQuest's nominatim
service, based On Open Street Map data. CTRL-F brings up search dialog. Requires
Internet access. Replaces old "GIS Layers" city search.
Improved handling of bad/down/slow server responses
"Downloading disabled" message only appears when tileset you are viewing is
having trouble
Added "Retrying" tiles to better show server response times/errors
Increased size and length of time photos stay visible in upper/right during
Single track playback
Improved time/elevation reading of raw NMEA log files (.log import)
Fixed reporting of free memory, disabled display of tile memory cache size
Fixed thread errors loading networked KML files
Fixed memory leak in tile downloading stack
Reordered Map Menu to better reflect priority/reliability of tilesets/servers
4.73 – [2/7/13]
Downloading from .FIT devices (eg Garmin 800) retrieves only last 24 hours
by default.
Fixed temperature plots and shading for sub-zero (F) temperatures
Added support for new SPOT-API .spot files (read/write), also "save as.."
for .spot files.
4.72 – [1/3/12]
Fixed files not opening when double-clicked and TF already opening
Additions to Mariposa UA GPS analysis tool.
4.71 – [11/8/12]
Added range rings for PLS type waypoints (Search and Rescue). Choose PLS for
waypoint symbol, then set interval between range rings in the "Comment" field
Fixed non-functional "Old Topo" menu item in the map folder