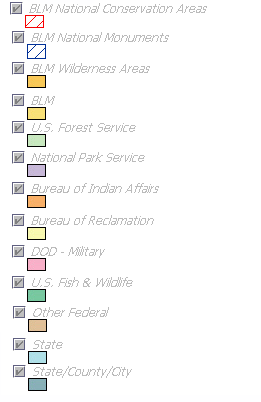 Land Ownership map set legend
TopoFusion Pro version 4.22 is out, with some nice fixes and enhancements to the software. One key change was the reinstatement of the Land Ownership Layer, which had a very serious server change, rendering previous versions of the software unable to download/display new Land Ownership maps. The land ownership layer has been incredibly useful for our Search and Rescue as well as Trail Planning users, so we are very happy to have it back. Full details on the Land Ownership change: http://www.topofusion.com/forum/index.php?topic=6270.0
For full details on what else has changed, check the revision history linked below.
---
Head over to the Download Page to try TopoFusion out, free of charge.
Registered users refer to your registration email for the download link, or go here to request your code and the download URL.
Full list of changes
For a complete list of changes see the Revision History