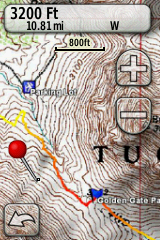 A couple weeks ago, TopoFusion released version 3.93 featuring the ability to upload any raster map to Garmin GPS units from the Oregon, Dakota and Colorado lines.
Now, in version 3.95, you can created large scale maps in TopoFusion, at full resolution, and upload them to your GPS. The way this works is that you choose a particular tileset, say, Topo 4 meter (USGS topo maps at 4 meters per pixel). Then you pan/zoom the TopoFusion window to cover your area of interest. TopoFusion tells you how many map tiles at full resolution it will take to cover this area. The current, GPS-wide, limit is 100 map tiles (of ~1000×1000 pixels), meaning you can cover a fairly large area with either high resolution aerial photographs, USGS topo maps, or your own maps, using TopoFusion's User Calibrated Maps feature.
We here at TF have been having a lot of fun with this feature, including going on bike rides and watching hi res imagery cruise by on our handlebars. This is exciting stuff, and combined with TF's ability to display hundreds of GPS tracks (that all get exported to the GPS as part of the map tiles) it provides a very easy way to load a bunch of data for use in the field. It's already been extremely useful both for exploratory rides and new trail layout.
---
Head over to the Download Page to try TopoFusion out, free of charge.
Registered users refer to your registration email for the download link, or go here to request your code and the download URL.
Full list of changes
For a complete list of changes see the Revision History