I've been talking about emulating Lynda's most excellent Camp Lynda for a while now. The time has finally come to showcase Tucson's trails, get some crackheads together, and see what fun ensues. The timing and routes are designed to be good prep for the AZT and AZTR. Two loops use big pieces of the race route.
It's a good excuse to head down to the desert in the prime season — as if an excuse is needed. It's Tucson, it's the desert, it's spring, it's going to be beautiful! Oh, and bring tire sealant!
Here's a synopsis, but full details (and GPX files) are maintained here:
http://topofusion.com/camptucson.php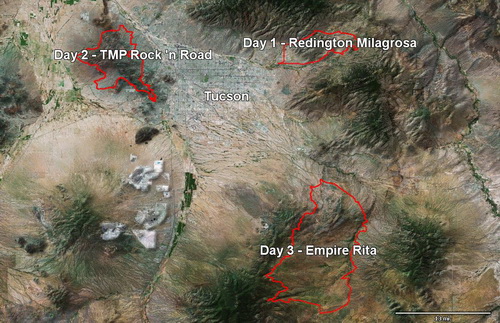 When: March 22-24, 2013

What: 3 big loops in the desert

Why: You know why.
Camp Tucson is an informal and loosely organized set of rides in the Tucson
area. GPX files and a start time are all that are provided. These are not a
races, though some people will ride fast. These are great prep rides for the
AZTR and AZT 300. Go at your own pace, ride with people and most of all be
self-sufficient!
The idea was copied, shamelessly, from Lynda W's most excellent
Camp Lynda. In that vein, here is CL's
credo: Camp motto is SELF SUPPORTED. Come ready to be independent and self
sufficient in every aspect. Everyone is invited provided you come self
supported; have your gps with the route loaded, ride at your own pace,
shortcut/bail when you have reached your fun threshold. Fitness and ability
level are non-issues, you set your own pace, make your own decisions, fix your
own flats, bring your own food/fluids. Know your limits and when to choose a
short cut home. Bring lotsa mojo 🙂
The Rides
(subject to changes)
Day 1: Redington AZT Milagrosa
The warmup ride is a Tucson classic. Climb on Redington Road into the high
desert, cruise 4×4 roads in the Chiva Falls complex, then hook on the AZT for
miles of ridgeline bliss. The finish is on one of Tucson's best trails – Milagrosa.
Day 2: Tucson Mountain Park Rock 'n Road Challenge
This is a grand tour of the Tucson Mountains on the west side of town. Everything from scenic dirt roads
in Saguaro National Park to hike-a-bike on Brown Mountain. This loop is very resilient to weather, and the
warmest place to ride, so it's a guaranteed good saguaro shredding time.
Day 3: Empire Rita.
This is the biggie. Looping the AZT in the Santa Ritas, with a refuel and
fried chicken option on route in Sonoita. There will be a smaller loop version
available (~60 miles) as well.