Movement is expression. Bike riding is art. And so I give you, "Paint by Bike" :
The world is a blank canvas. We're free to move about it. Free to spend ourselves throughout it. Where will you go this year? How will it affect you, and how will it affect the world? What pictures will you draw?
It's a yearly tradition for me to plow through my GPS data for the year. Relive the rides, visualize the lines, scrutinize the data. I like the idea of "GPS Art", though its traditional meaning is to go out and actually try to draw something specific by moving around.
I prefer to think of art as something we create by doing what we love. In my case, that's riding a mountain bike through all kinds of terrain, pushing my body and mind, and losing myself in nature. It took a year to create the colorful image the video shows, and I suffered a fair bit for each and every one of those colors. So it has meaning. To me, anyway. (Or maybe I'm just a GPS geek goofing around with his software. Well, OK, I am)
A few details, for those interested in how the image is 'drawn.' Each GPS track is replayed simultaneously, and every time a GPS point is recorded, the brush hits the canvas. The width of the brush is inversely proportional to the speed I was traveling at the time. Meaning, slower speeds = bigger brush. I figure the slower speeds are where the action is. The color of the brush is determined by the length of the ride. For example, all the reddish colors come from "big" rides, 5+ hours. The brush is also very light, so that we can get a nice additive effect. This means darker areas are more visited. The area shown is centered on my house in Tucson, Arizona and the dimensions are roughly 45 miles x 35 miles = ~1500 square miles.
For some perspective, here's 2010, with some of the major trails / riding areas labeled: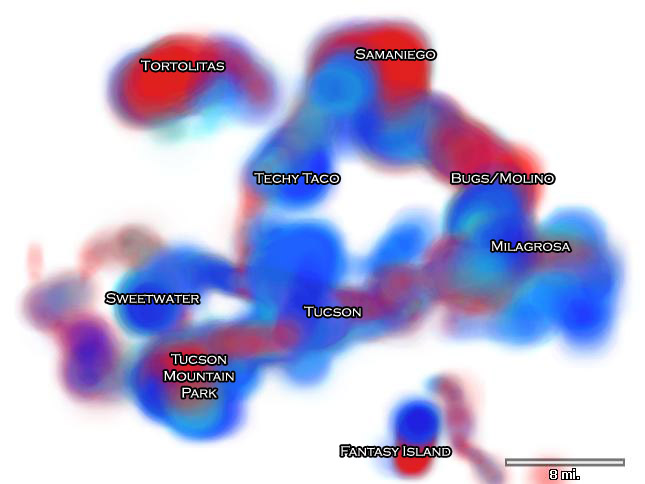 The little dot that spins around doing 21 laps at Fantasy Island still cracks me up every time I watch the video.
There are a lot fun ideas to experiment with. Maybe a "GPS Art" dialog will someday find its way into TopoFusion.
As always, I added up my yearly GPS stats. This time I decided to compare them against previous years.


| | | | |
| --- | --- | --- | --- |
| Year | Miles | Climbing (ft) | Moving time (days) |
| 2003 | 2791 | 395,835 | 15.5 |
| 2004 | 6845 | 703,819 | 31.7 |
| 2005 | 6451 | 633,829 | 29.2 |
| 2006 | 5092 | 758,940 | 28.3 |
| 2007 | 5005 | 719,811 | 30.5 |
| 2008 | 5669 | 681,078 | 31.2 |
| 2009 | 5771 | 759,092 | 32.1 |
| 2010 | 6607 | 760,832 | 31.0 |
It's interesting that I seem to end up with nearly the same amount of moving time every year. Yet mileage and total climbing vary quite a bit. Each year has had its challenges, from injuries (this year it was my ankle) to overtraining. But they all seem to come out pretty consistent in the end. 2010 logged the most climbing (but only by a slim margin that is well outside the precision of the data), and the most mileage since 2004. '04 was the year Paula and I toured the divide route, which was 2500 miles in a little more than a month. 2003 is low because I spent the summer backpacking in Idaho (while working for the Forest Service), and I also wasn't as diligent at GPS'ing every ride since TopoFusion was still new.
The numbers may be consistent, but the where and what I ride never is. The trails, the stories and the characters go so much deeper. I threw in the GPS art images for the past few years at the end of the video (all centered on Tucson), and you can see that they are quite different from year to year. The conclusion? There is much to do, even right outside my door. So many rides, so little time. Can't wait to see how 2011's canvas will be filled in. Thanks for reading.