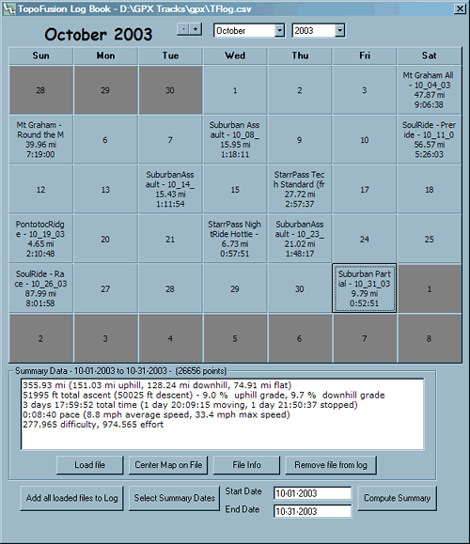 I cleaned up my TopoFusion logbook for the year, and asked it to summarize my year of GPS collection on the bike:
5005.47 mi (1838.89 mi uphill, 1800.23 mi downhill, 1690.65 mi flat)
719,811 ft total ascent (719,426 ft descent)
54 days 15:39:50 total time (30 days 0:11:47 moving)
7.7 mph average speed
3677.236 difficulty, 11259.117 effort
That's a bit of riding, but certainly not as much as some. I take breaks, get injured, and sometimes just don't want to ride. While it's true that I don't GPS every ride I do, there's always a GPS on my bars if the ride is any of the following:
a) new/exploratory
b) long
c) hard
It's all on the MTB, 'cause I ain't got no stinking road bike. There's plenty of pavement (e.g. to get to rides) in there though.
The moving time is always the number that cracks me up. I spent 30 days moving on a bicycle?! But looking at it another way, that's less than a tenth of the year. I imagine quite a few hours went into supporting those 30 days, though – eating, sleeping (!), mapping, wrenching, plotting, and most important of all…. day dreaming.
And all of my GPX data together:
28,476.39 mi (9819.11 mi uphill, 10005.13 mi downhill, 8554.91 mi flat)
3,674,092 ft total ascent (3,751,733 ft descent)
419 days 23:30:24 total time (146 days 6:56:10 moving)
8.3 mph average speed
That's from almost 2 million unique GPS points. Been collecting since '02, which was not coincidentally, when TF started. It's possible there are a few outliers in there – I haven't scrutunized the oldest data.
Here's to 2008!